One of the most coveted plants in the world is the pink princess philodendron (Philodendron erubescens 'pink princess'), and with good cause. The pink princess is one of a kind among plants due to its dark green, heart-shaped leaves that are variegated with bubblegum pink. However, the pink princess's variegation is stable because it results from natural processes, whereas the pink congo's is the result of chemical injections into the leaves and typically fades back to green a few months after purchase.
The key to keeping the vivid pink variegation of your pink princess philodendron is to learn how to care for it properly. One of the many benefits of caring for a philodendron is how easy they are to maintain.
| | |
| --- | --- |
| Botanical Name | Philodendron erubescens 'pink princess' |
| Common Name | Philodendron pink princess, blushing philodendron |
| Family | Araceae |
| Plant Type | Perennial |
| Mature Size | 2-4 ft. tall, 2-4 ft. wide |
| Sun Exposure | Partial |
| Soil Type | Loamy, moist but well-draining |
| Soil pH | Acidic |
| Bloom Time | Spring, summer |
| Flower Color | Green, white |
| Hardiness Zones | 9a, 9b, 10a, 10b, 11a, 11b |
| Native Area | South America |
Taking Care of a Pink Princess Philodendron
The pink princess philodendron is an aroid from the family Araceae that is found naturally only in Columbia. This vibrant plant may cost a hefty penny, but it requires little maintenance despite its eye-catching appearance. However, there are a few important considerations to make to guarantee the best possible leaf variegation. The pink princess does have blooms, however the spathes are so little that the plant is rarely flowering when kept inside.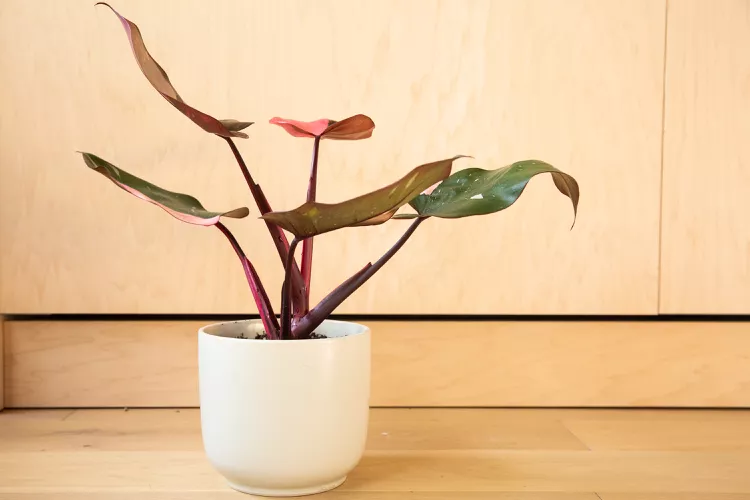 Light
The primary aspect in determining the level of variation in your pink princess philodendron is the quantity of light it receives. Pick a spot that gets lots of bright, indirect sunlight. The pink princess philodendron, when grown indoors, can also withstand a couple of hours of direct light, which may aid in increasing its variegation. You should invest in a grow lamp for this plant if you do not have access to a well-lit area of your home. If the pink princess doesn't get enough sunlight, its leaves will quickly turn green and lose their beautiful variegation.
Soil
The pink princess philodendron, an aroid, thrives in loose, humus-rich soil with good drainage. The pink princess prefers a medium consisting of ordinary potting soil (one part), perlite (one part), and orchid bark (one part).
Water
Water thoroughly after letting the top half of the soil dry out between waterings. Keep your pink princess away from soggy soil, since this can cause root rot. If you're not sure if your pink princess philodendron needs water, it's better to wait another day than to risk killing it from a lack of moisture.
Conditions of Heat and Dampness
The pink princess philodendron thrives in hot and humid environments, but can easily adapt to the conditions found within most homes. Temperatures below 60 degrees Fahrenheit (15 degrees Celsius) are dangerous for your plant, so try to keep it between 65 and 79 degrees Fahrenheit (18 and 26 degrees Celsius).
Fertiliser
A balanced liquid fertiliser should be applied once per month during the pink princess philodendron's growing season (spring and summer). In early autumn, as your plant enters its dormant stage, you should stop feeding it.
Pink Princess Philodendron Propagation
The pink princess philodendron, like most philodendrons, can be easily propagated from stem cuttings. Plant propagation has many benefits, including the creation of a new plant to give away and the promotion of variegation (particularly if your plant's leaves have begun to revert). Following these simple instructions, you may easily multiply your pink princess philodendron from stem cuttings:
To begin, decide where on the plant's stem you want to make your cut. Two or three leaves and two or three exposed nodes near the bottom of the cutting are ideal.
Separate your cuttings by cutting the stem with sterile pruning shears or scissors.
Get rid of the lower leaves on your cutting and keep only the top two or three.
Leave the cutting out for 12–24 hours so the cut can callous over.
The cutting should be submerged in water and placed in an area with bright, indirect light once the edge has calloused. Make sure the cutting's exposed ends are always submerged in water.
New roots should emerge from the cutting within two to three weeks.
The cutting can be replanted in soil once its roots have reached a length of at least 1 inch. Choose a potting soil with good drainage, and water it thoroughly.
Insect Pests & Typical Plant Diseases
Many common pests and diseases that plague houseplants can harm the pink princess philodendron. The mealybug, aphid, spider mite, scale, and fungus gnat are typical pests. Root rot is a common disease that occurs when plants are overwatered, and rust spot is caused by a fungal infection.
Pink Princess Philodendron Is Prone To a Number Of Problems.
Pink princess philodendrons are low-maintenance houseplants if given the right treatment. Improper watering, humidity, or light are frequently the root causes of problems with these tropical plants.
Edges browning
When the humidity level drops, the leaves of a pink princess philodendron start to dry out and become brown around the edges. There is no way to undo the harm that has already been done, but you can slow the plant's browning by increasing the humidity around it.
Changes in Brownian Motion
Brown spots are the last thing you want to see on your plant, but they might appear if you expose it to light that is too strong. Pink markings on the leaves are easily scorched by direct sunlight, leaving big blackened areas. As was just indicated, a lack of humidity can also play a role in this.
FAQ
What's up with the high cost of the pink princess philodendron?
The magnificent foliage of these tropical plants has caused a surge in their popularity, making it challenging for growers to meet consumer demand. Due to the mutagenic nature of their variation, it is difficult to propagate these plants from seed, driving up the price even further. This has led to exorbitant costs, despite the fact that pink princesses require minimal maintenance.
My once-pink plant is now completely green; what gives?
The absence of illumination is likely to blame. To encourage dense shading and robust variegation, keep your plant out of direct sunlight and instead in bright, indirect light.
In what way is my plant becoming leggy?
If your plant is getting leggy, it means the leaves are trying to seek for more light. To avoid lanky new growth, relocate your plant to a brighter area.