Teenagers Refusing Mental Health Treatment: Teenagers are faced with a diverse range of feelings, experiences, and difficulties as they traverse the crossroads of adolescence. Among them, one of the most important aspects that is frequently overlooked due to personal inhibitions, cultural stigmas, and a general lack of understanding is one's mental health. In order to effectively address the issue of adolescent resistance to mental health care, a nuanced knowledge, compassion, and planned interventions are required.
Table of Contents
Recognizing the Complexity
The issue of adolescents refusing treatment for mental health conditions is complex and has several facets. It is the result of a complex interaction of a number of elements, including society attitudes, personal beliefs, and psychological obstacles. Teenagers may be reluctant to seek assistance owing to the fear of being judged, the experience of being misunderstood, or the unwillingness to accept their issues. In addition, the dynamics of the family, the affects of culture, and the pressures of peers all contribute further to this complicated picture.
Breaking the Stigma
Eliminating the negative connotations that are linked to issues of mental health is essential if we want to encourage adolescents to seek help. Education is a critical component in the success of this attempt. We can create an atmosphere in which reaching out for assistance is accepted and even encouraged by promoting open dialogue at educational institutions, local communities, and on various internet platforms.
Empowering Adolescents
Knowledge may act as a catalyst for change when it's used to empower people. It is essential to provide services, such as online platforms for mental health, helplines, and instructional materials that connect with youth, easily available in order to remove obstacles. The normalization of conversations about mental health and the creation of more encouraging settings are both facilitated by include mental health education in the curriculum of schools.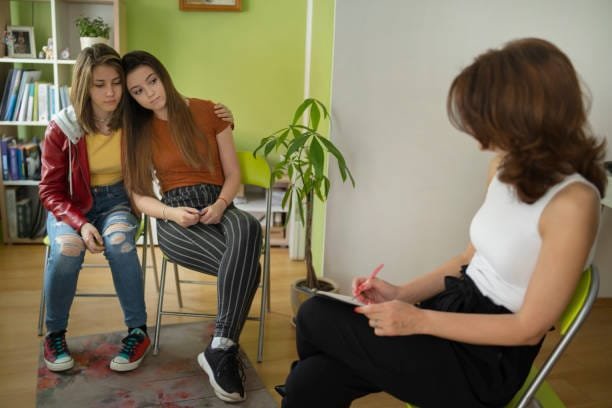 Fostering the Development of Supportive Networks
The importance of having a strong support system cannot be emphasized. Recognizing the early warning signs of distress in adolescents can be a crucial task for parents, teachers, mentors, and friends of the adolescent. Providing teenagers with unconditional support, genuinely listening to them without passing judgment, and creating safe environments in which honest conversations may take place might inspire adolescents to think about getting professional assistance.
Cultivating Trust in Treatment
It is critical to earn patients' trust in the treatment of mental illness(Teenagers Refusing Mental Health Treatment). Teenagers who are reluctant to seek professional assistance might be encouraged to do so by highlighting success stories, providing testimonials, and putting an emphasis on the positive effects that obtaining help can have. In addition, providing a variety of treatment options that are tailored to the preferences and degrees of comfort of the patient can have a considerable impact on the choice the patient makes.
The Importance of Professional Guidance
Intervention from knowledgeable individuals is required. A supportive atmosphere for adolescents may be cultivated with the help of educated mental health experts who are proficient in empathic communication and have in-depth expertise in the psychological development of adolescents. Breaking down obstacles to getting assistance may be accomplished by customizing treatment programs to meet the specific requirements of the individual while also developing a feeling of autonomy.
Navigating Reluctance
It is essential to have a good understanding of the causes of hesitation. There is a wide range of circumstances that might lead to a youngster deciding against receiving treatment for mental health concerns(Teenagers Refusing Mental Health Treatment). They could be reluctant to seek assistance because they worry about being stigmatized, are concerned about maintaining their privacy, or are afraid of being drugged. It is absolutely necessary to identify these apprehensions and deal with them with empathy and comprehension.
Building Communication Bridges
The key to successfully overcoming obstacles is effective communication. The cultivation of an atmosphere in which adolescents are comfortable expressing their ideas and seeking assistance when necessary may be accomplished by encouraging open, non-judgmental talks about mental health in the family, in schools, and within communities. Peer counseling programs and anonymous helplines are two examples of useful tools that may be made available to users.
Tailoring Solutions
In the realm of mental health support, it is essential to acknowledge that there is no "one size fits all" solution. Teenagers are able to select ways that resonate with their preferences when providers offer a variety of possibilities, including traditional therapy sessions in addition to alternative therapies such as art or music therapy. A tailored approach recognizes the individuality of the patient and helps them feel more in control and at ease with the decision to seek therapy.
Supporting Adolescents Holistically
Taking a comprehensive approach to help is crucial. The state of one's mental health(Teenagers Refusing Mental Health Treatment) is not an independent problem; rather, it is intricately entwined with many different aspects of life. The promotion of healthy lifestyles, the uptake of physical activities, and the adoption of mindfulness practices all contribute to an improved state of well-being. This method not only promotes positive mental health in adolescents but also helps them become more resilient.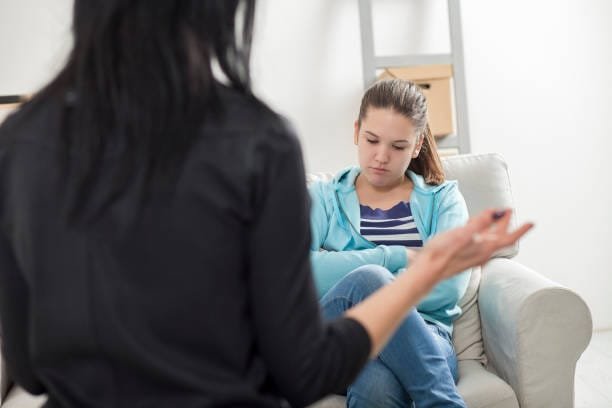 Destigmatizing Mental Health|Teenagers Refusing Mental Health Treatment
Education is perhaps the most important factor in removing the stigma associated with mental health issues. The stigma that surrounds mental health may be alleviated by normalizing discourse about it through the use of workshops, seminars, and inclusive media depictions. When adolescents recognize that mental health is a typical component of overall wellbeing, they are more likely to seek assistance without fear of being judged or stigmatized for doing so.
Parental and Community Involvement
It is essential to get participation from both the parents and the larger society. It is possible to establish a network of understanding and aid by providing parents with instruction on how to identify indicators of mental distress in their adolescents and by making community support groups available. The development of a common knowledge of mental health contributes to the cultivation of conditions that are favorable to the pursuit of therapy.
Professional Guidance as a Resource
It is possible to change people's perspectives by drawing attention to the fact that mental health experts serve more as resources than as authoritative figures. The reluctance of adolescents to seek treatment is reduced when these young people regard the therapists or counselors they encounter as partners on their path toward wellbeing. It is possible to inspire teenagers to take that necessary step by highlighting the fact that professional assistance is both helpful and discreet.
In Conclusion Of Teenagers Refusing Mental Health Treatment
The foundation for overcoming adolescent resistance to receiving mental health care(Teenagers Refusing Mental Health Treatment) is built on comprehension, empathy, and the establishment of extensive support structures. We can pave the road for adolescents to take ownership of their mental health by encouraging open conversation, providing a variety of treatment options, and cultivating an atmosphere free from stigma.
Final Thoughts Of Teenagers Refusing Mental Health Treatment
In essence, a multidimensional approach is required in order to comprehend the reasons behind a teen's rejection to receive treatment for mental health issues. We can prepare the way for a generation that is healthier and better able to withstand adversity by combating the stigmas that are prevalent in society, providing teenagers with information and easy access to services, cultivating supporting networks, and promoting trust in therapy.
FAQs: Addressing Teenagers Refusing Mental Health Treatment
What are the reasons that adolescents refuse treatment for mental health issues?
Teenagers may choose not to receive treatment for mental health issues for a variety of reasons, including anxiety about being branded, worry about the treatment process, fear of being subjected to stigma, and worries about confidentiality.
What steps can parents or guardians do to encourage their adolescent children to talk about their struggles with mental health?
It is essential to promote talks that are both open and free of judgment. Listening attentively, displaying empathy, and refraining from passing judgment are all effective ways for parents to establish a secure environment for their children. They also have the option of educating themselves on mental health in order to better comprehend the problems of their kids.
What steps can schools take to better serve the mental health needs of adolescents?
Schools have the potential to play a major role in the fight against stigma associated with mental illness by including mental health education into their curricula, providing counseling services, organizing peer support groups, and organizing awareness campaigns.
In addition to conventional talk therapy, what are some other possible treatment options for adolescents?
Teenagers who are struggling with issues related to their mental health may benefit from participating in alternative treatments such as art therapy, music therapy, mindfulness practices, and physical activities. Self-expression and relieving stress are both possible via the use of these tools.
What kinds of things can communities do to help promote the mental health of adolescents?
Communities have the ability to make resources available, such as support groups for parents and adolescents, as well as conduct workshops and establish safe spaces for open dialogue. It is helpful in reducing the stigma that is associated with mental health to foster an atmosphere within the community that is supportive.
When it comes to helping reluctant adolescents, what part do specialists in the mental health field play?
Professionals in the field of mental health act as both leaders and resources. They provide assistance that is kept strictly secret, personalize treatment programs to each individual's need, and cultivate an environment in which adolescents feel free to voice their issues without fear of being judged.
What steps may be taken to encourage adolescents to seek the assistance of a trained professional for issues related to their mental health?
Encouragement may be provided to adolescents by normalizing conversations about mental health(Teenagers Refusing Mental Health Treatment), sharing success stories, and putting an emphasis on the benefits of obtaining professional assistance. Providing them with information on the supportive and confidential nature of therapy as well as the sessions itself can also help reduce anxieties.
What actions may people take to encourage a friend or peer who is hesitant to get treatment for mental health issues?
It is possible to make a major impact by providing sympathetic listening, without passing judgment, and gently urging the individual to explore available resources or seek the assistance of a professional. It would be helpful if you offered to accompany them to appointments or just to be there as a supporting presence.
How can adolescents be given the tools to take responsibility for their own mental health?
Teenagers have the ability to make educated decisions about their mental health(Teenagers Refusing Mental Health Treatment) when they are provided with access to a variety of information, tools, and treatment alternatives. A sense of agency and control may be fostered in the individual by encouraging them to seek help without the fear of being judged.
If a teenager needs help for their mental health, where can they obtain reputable information and resources?
Teenagers have access to reputable internet platforms, helplines, counseling services offered by schools, and community support groups online. These sites provide information, guidance, and support for a variety of mental health difficulties, as well as other related topics.